For beauty brands, finding the best skincare influencer is no mean feat. You need someone who aligns with your ethos, speaks knowledgeably about ingredients, and creates compelling content that brings formulas to life. What's more, in a category built not just on aesthetics, but on wellness and self-confidence too, your talent needs to be someone your target audience can trust.
That's why influencers who speak regularly – and confidently – on skincare are key. By establishing themselves as experts with a steady stream of content, they lend gravitas to next-gen serum tech or a sustainable line of face masks. There are many metrics you can look at when seeking new talent to work with, but 'most skincare mentions' is our go-to for influencers who know what they're talking about.
At mmi, we track these influencers all year round to identify the newcomers and the power players who are sending skincare viral on social media. Below, you'll discover the top 20 skincare accounts in the UK on social media through Q3 2022 (July-September). From TikTokers to YouTubers, from e-zines to etailers, these are the top accounts to know.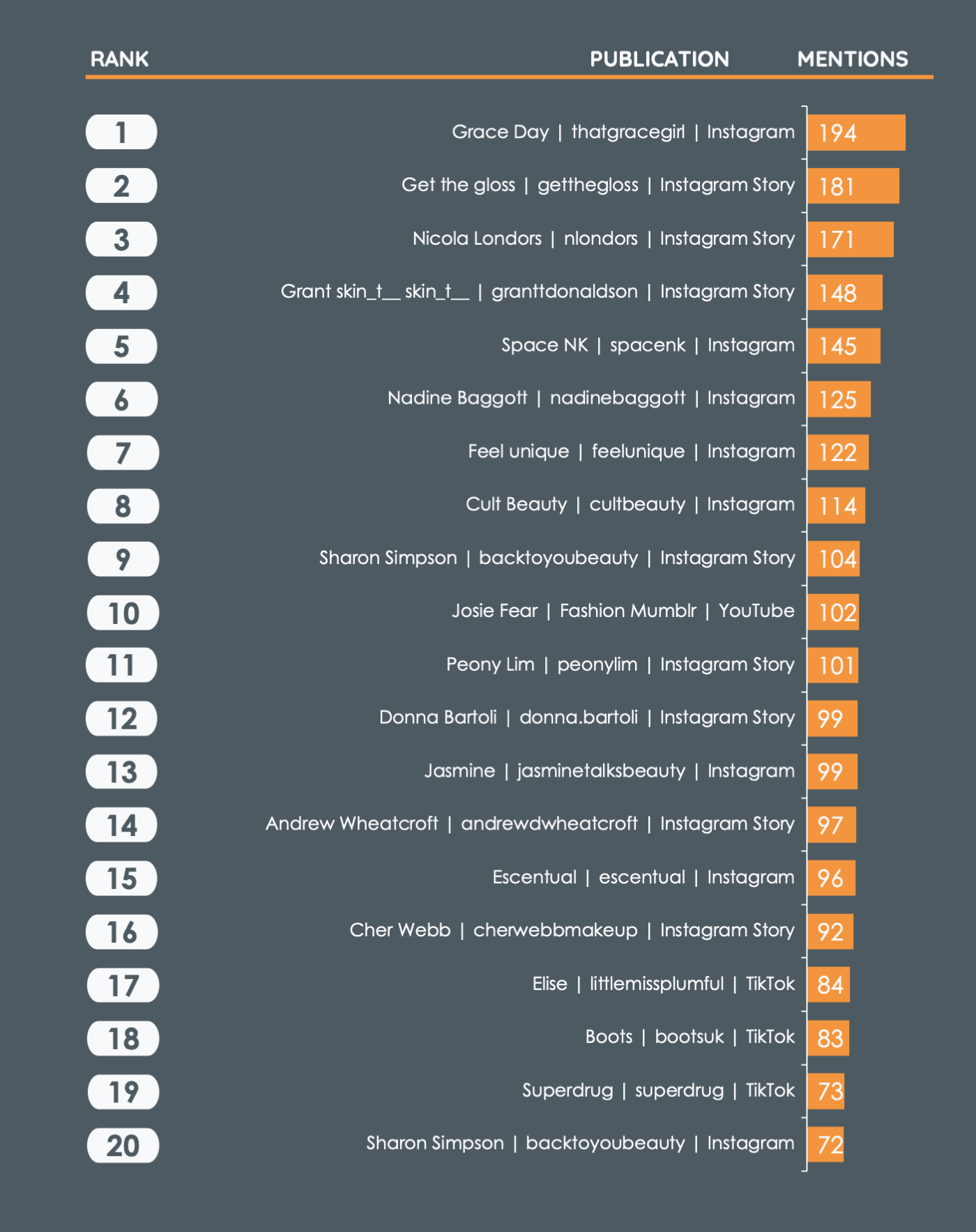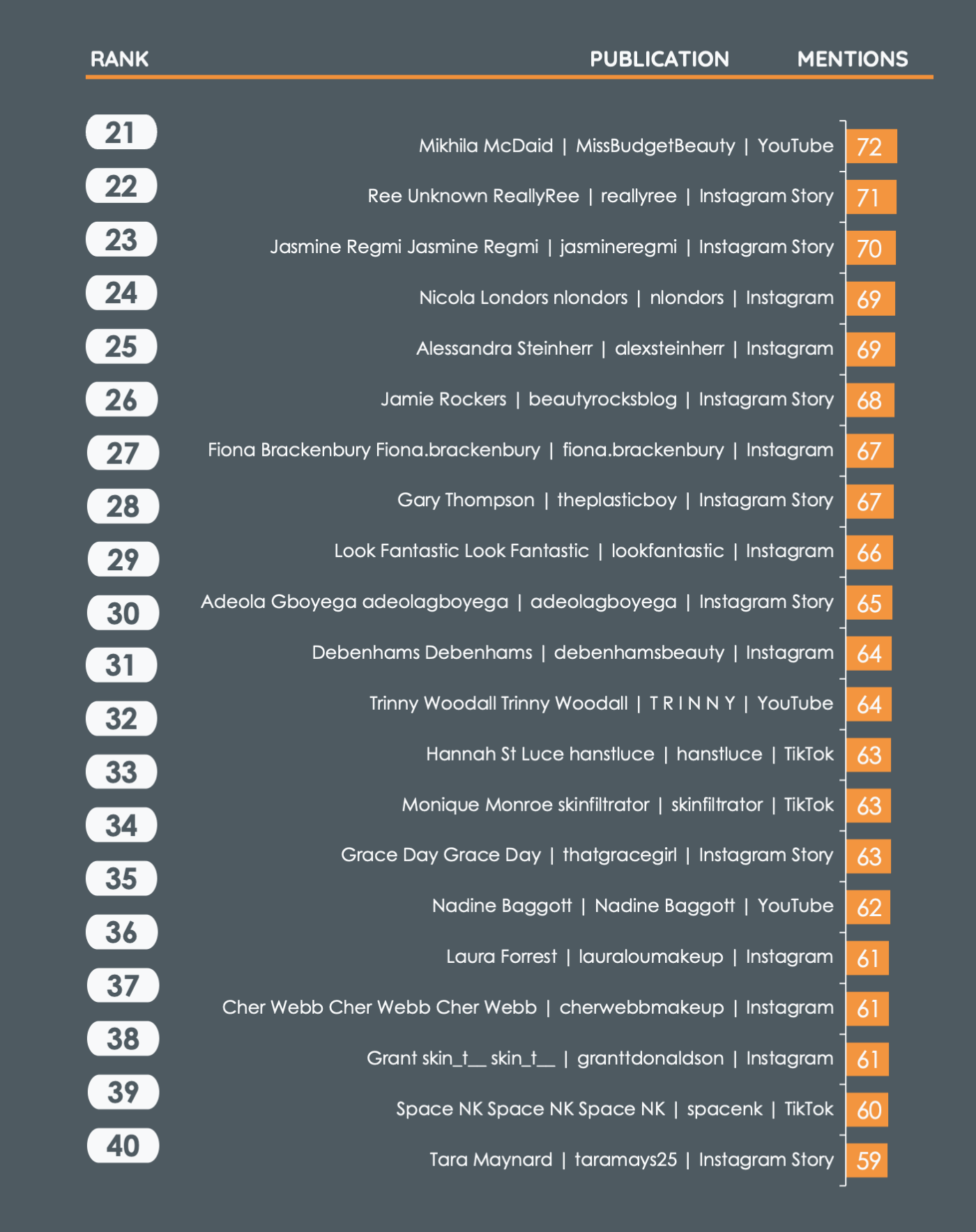 Topping the list of accounts over the period was @thatgracegirl's Instagram feed. Grace is a beauty editor and aesthetician who regularly shares shelfies and routine reels with in-depth skincare advice.

Beauty e-zine @getthegloss followed close behind with their Instagram Stories, where they mentioned skincare 181 times over the period. Their Stories are largely used to link to articles on the site, as well as deskside chats with the editorial team about the newest products they're testing.
Six of the top 20 accounts are owned by etailers, with @spacenk's Instagram featuring high on the list, alongside @feelunique, @cultbeauty and @escentual's Instagram grids. These stores have been working hard to support their brands, whether it's Space NK hailing REN Clean Skincare's eco-friendly elixirs, or Cult Beauty talking all things green by Tata Harper.
Skincare enthusiasts were prominent on the list; real people with a real passion for cutting-edge formulas, such as @jasminetalksbeauty (a self-proclaimed 'skinthusiast'), @backtoyoubeauty (with a focus on age positivity) and @andrewdwheatcroft (sharing products for all budgets).
The TikTok account that produced the most mentions on the list belongs to @littlemissplumful, who shares her eczema journey with honest reviews of products along the way.
Just two other TikTok accounts appeared in the top 20, belonging to @bootsuk and @superdrug. Interestingly, the etailers' Instagram channels didn't make the list, indicating a heightened focus on TikTok for their skincare content.
TikTok accounts by Boots and Superdrug also appeared in our list of top 10 UK beauty etailers in Q3 2022, showing they're not just winning at skincare, but at beauty content as a whole.
Watch this space for our next quarterly round-up of beauty influencer data, where we'll reveal who was creating the most content through the lucrative Q4 period. In the meantime, discover the average costs of advertising on TikTok, whether you're pricing up a TopView ad or looking to hire the platform's top talent.