There are times when a beauty campaign calls for a non-beauty-focused influencer. When promoting your product in the fitness, vegan or parenting spaces means crossing markets to seek untapped creators. But when it's beauty expertise your new product launch needs, you want the authority on skincare, makeup, haircare or fragrance; the talent famed for their passion and knowledge, with a trusting audience to boot.
In these cases, the influencers posting the most beauty content may be your best pick. With a high volume of mentions, they establish themselves as experts who followers can turn to for the latest news and trends. At mmi, we benchmark influencer performance year-round to understand who is making a true impact. Below, we reveal the top UK talent and etailers who had the most beauty-focused mentions in Q3 2022…
The top UK beauty influencer accounts
Above are the top 10 UK influencer accounts with the most beauty-focused mentions from July 1st to September 30th 2022. Eight of these are from Instagram and two are from YouTube. Topping the list is Pat McGrath who, like Trinny Woodall in position eight, is a beauty brand founder promoting her collection across her @patmcgrathreal Instagram feed. Pat McGrath became a beauty guru – AKA the 'Mother' of makeup – long before her eponymous Pat McGrath Labs brand was launched. This has given both her posts and her new product launches added gravitas. She achieved 677 mentions over the period, up from 338 in Q1 2022.
Up next, and with one of the only two YouTube accounts in the top 10, is Stephanie Toms, whose passion for makeup led to 391 mentions over the period. Another notable mention is makeup artist Cher Webb, whose Instagram account appears twice on the list: in fourth place for her @cherwebbmakeup grid posts, and in fifth place for her Instagram Stories.
The data indicates that, when it comes to beauty coverage, Instagram still appears to be the leader, with grid posts proving to be the preferred medium for beauty-focused posts. However, YouTube is still home to some of the UK's top beauty influencer accounts – especially where makeup content is concerned.
The top UK beauty etailer accounts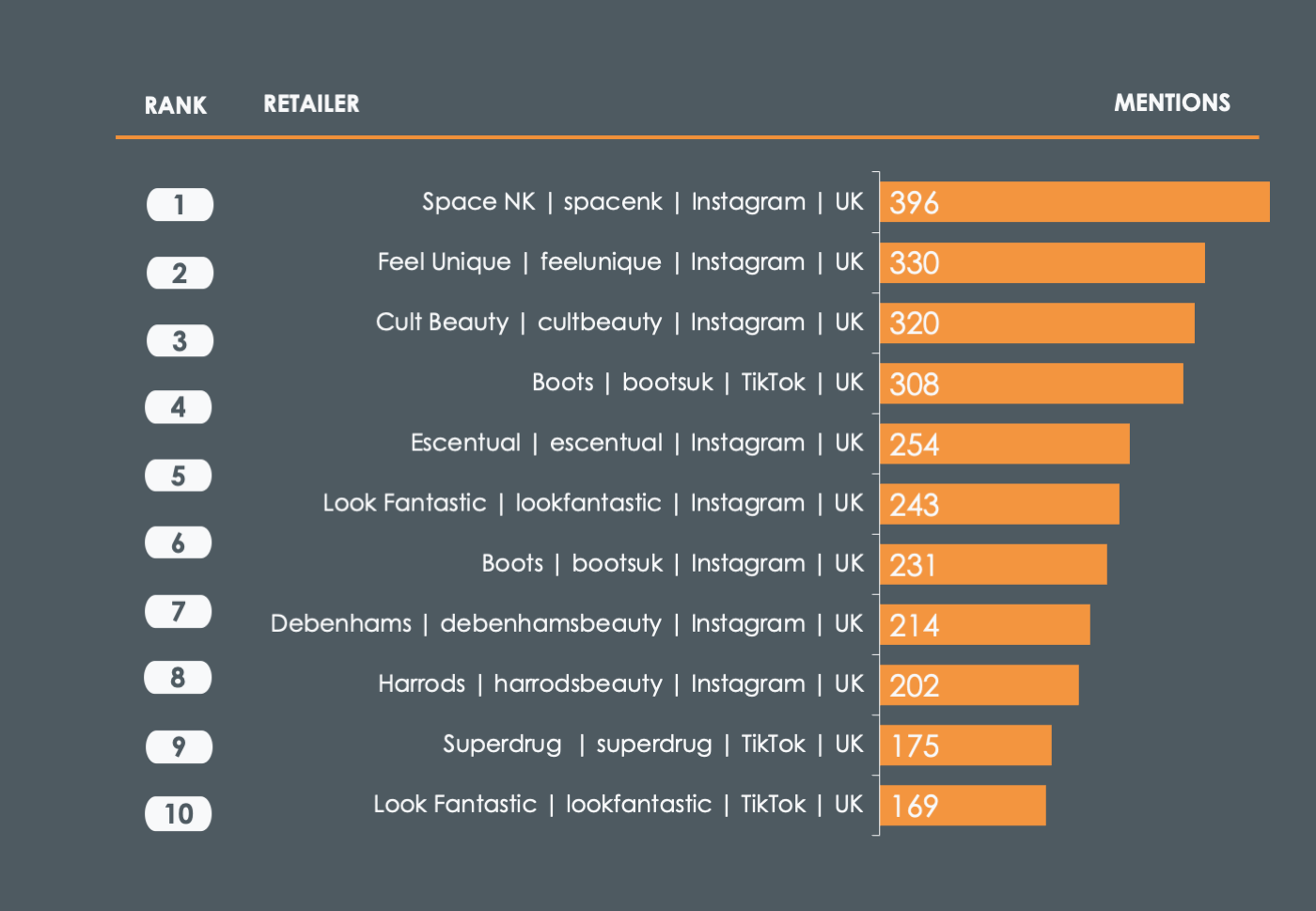 Beauty retailers are fast becoming the new generation of influencers. The likes of Cult Beauty and Space NK are not just stores, but content hubs, where shoppers seek insight on new products and techniques. Their social media followings can rival that of even macro influencers, reinforcing the need for strong brand-etailer partnerships to boost coverage. A high number of mentions equals high opportunity, and the store account that took the top spot in Q3 was Space NK, with their @spacenk Instagram feed. Other high ranking etailer Instagram accounts include @feelunique, @cultbeauty and @escentual.
Two TikTok accounts – @bootsuk and @superdrug – also appear in the top 10, pointing to a greater focus on the platform as its user base grows. Interestingly, both Boots and Superdrug are achieving higher mentions on their TikToks compared to their Instagram accounts. As more brands become familiar with the content that works on the platform, TikTok mentions could keep growing quarter on quarter.
Watch this space for our next quarterly round-up of influencer data. In the meantime, get inspired with advice on how to launch a new beauty product on TikTok.