If you have been using social media platforms, you may have seen some brand and influencer partnerships. However, creating a strong influencer marketing strategy is not among the easiest tasks. But we're here to help!
We have picked 5 influencer marketing strategies from successful companies. We went in depth in each one of them in order to understand what made them work and how can your brand repeat the success!
From using bright visuals, micro-influencers all the way to user-generated content. Pick your inspiration for your upcoming influencer marketing campaign from featured brands.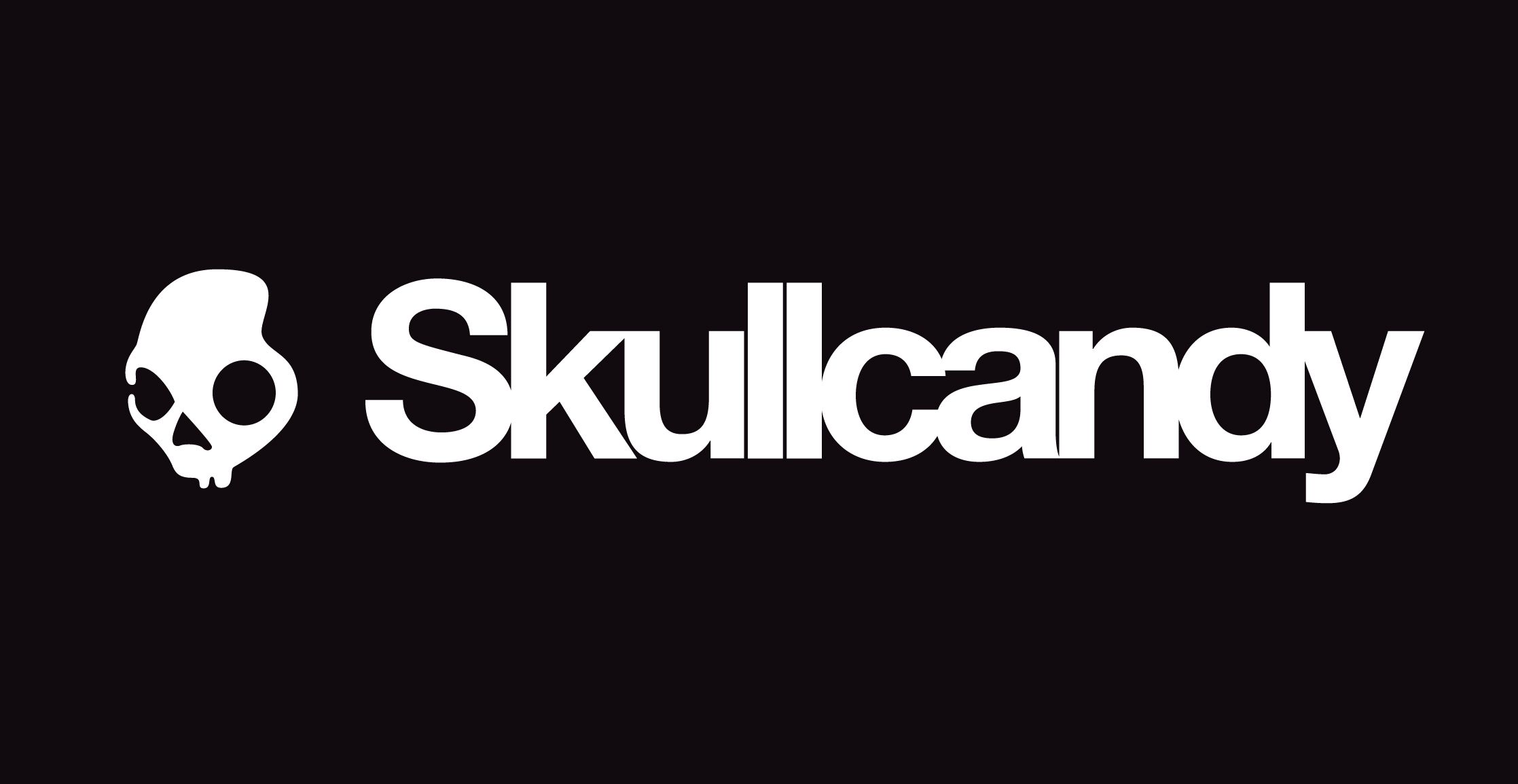 1. Skullcandy: Influencer Marketing Strategy
Campaign: Feel it. 12 moods/12 months by Skullcandy
Campaign objective: Establish connection with the audience on a personal level.
Description.
Audio electronics brand Skullcandy provides consumers with high-quality headphones and earbuds. The company has established a well-recognised brand among board sports enthusiasts (surf, skate, snow) and music lovers.
Consumer electronics industry brands are constantly competing with each other while being pressured by highly demanding customers. Skull candy was up against the tough competition and had to seek new ways to connect their brand and products.
Influencer marketing strategy
Skullcandy executed a well planned, year-long influencer marketing strategy. During 12 months, the brand dramatically improved the way the audience engages and increased social media and online presence within target audiences.
Influencer strategy was split up into 12 unique campaigns for each month. Campaigns were running across multiple social media channels and involving several influencers at the same time!
Choice of influencers
Each month involved handpicked musicians and athletes with Instagram following ranging from 5k-700k. Skullcandy chose influencers resonating with their brand and prioritised high engagement over a large follower base. Their choice fell on Macro, Micro and even Nano influencers, which all are still having a personal tone and influence with their follower base.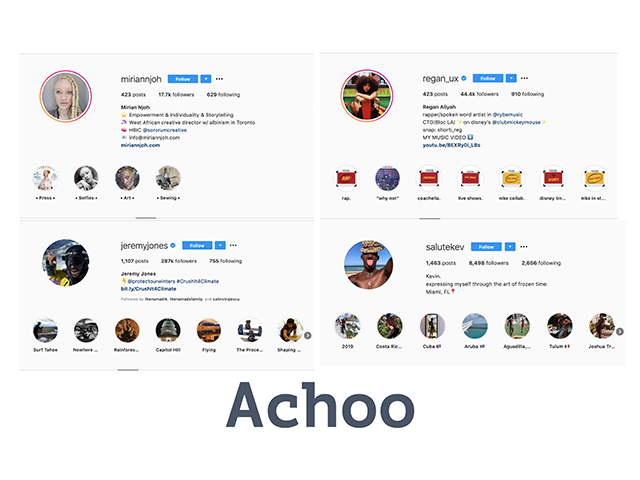 Influencer activation process
Each month included different themes, featuring different influencers and promoting exclusive products from Skullcandy. The brands biggest challenge was to plan and streamline product releases, influencer activities, content creation and content distribution across multiple channels.
‍
Themes.
Each month featured a different theme.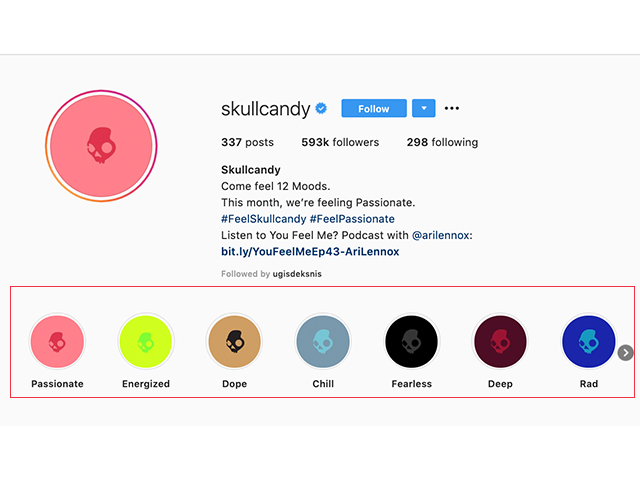 Limited edition
Each month and theme featured limited edition product releases.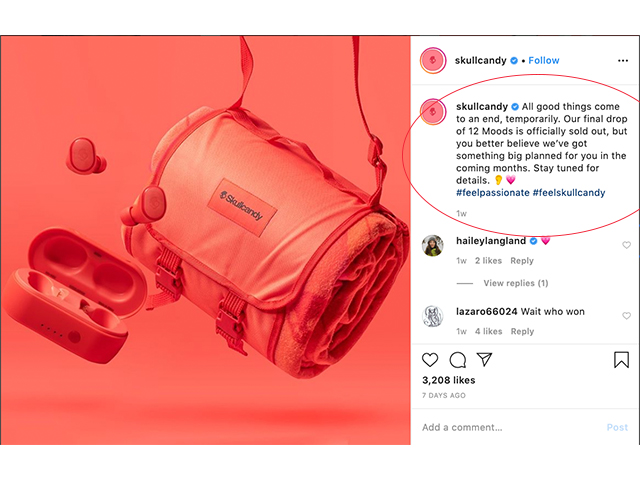 By being active and consistent with different content coming out on multiple platforms, Skullcandy managed to capture the audience's attention. On top of that, they built curiosity and urgency around their products, influencers and content. As a result, each product release was sold out.
Highlights:
Campaign connects emotionally
Know what your audience likes
Specifically selected influencers and co-creation of content.
The campaign captured Influencers audience
Highly visual campaign and long term partnerships evolved
Wide range of content provided: Images, video, IGTV and even Podcasts
Results:
Sold out each, unique product release
Increased social media interaction on Brands Instagram by 200%
Social following increased by 200%.
Improved social interaction quality and brand image
Skullcandy's successful influencer strategy has been driven by choice of influencers, consistency and well planned content distribution.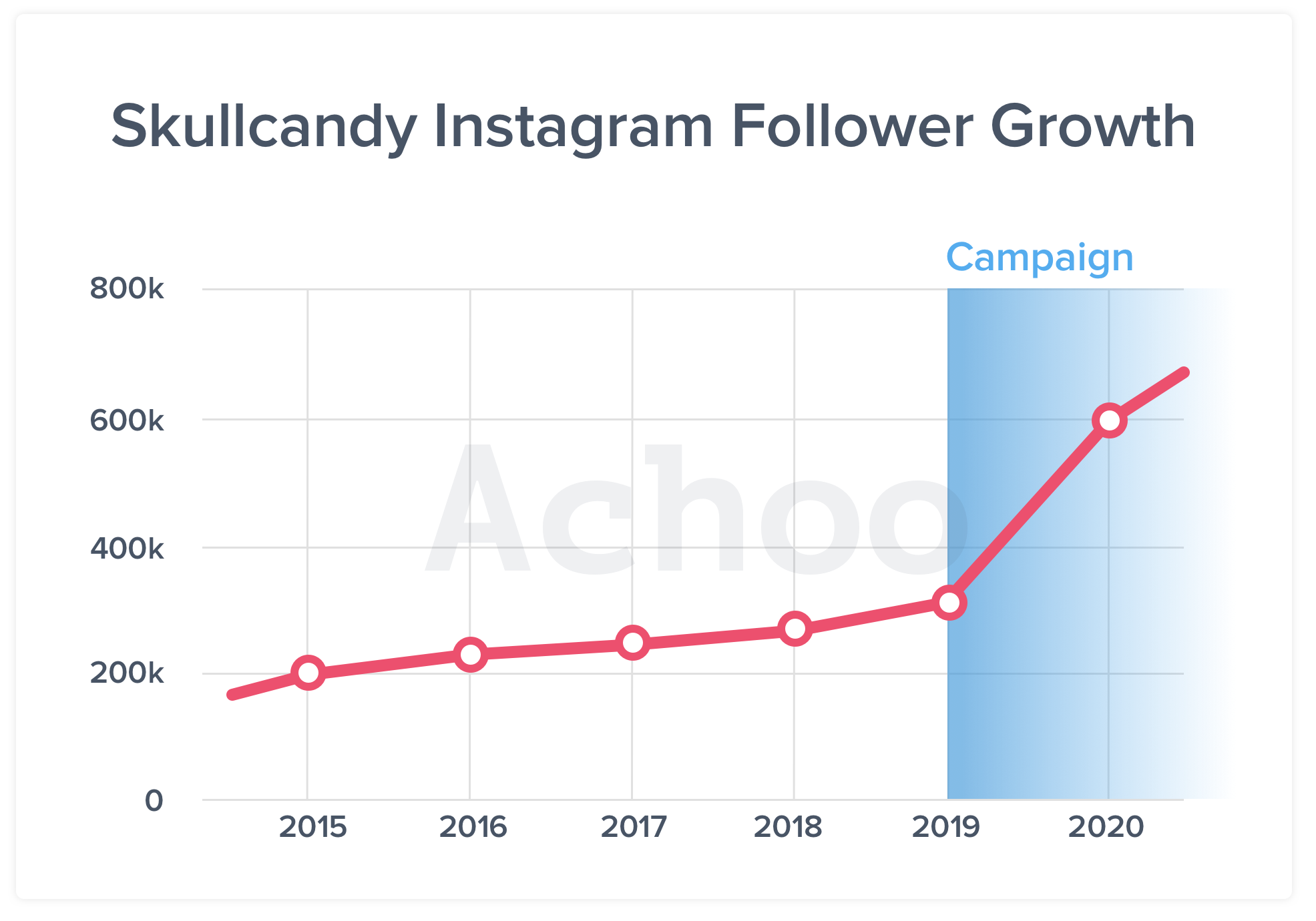 ‍
Some of the activated Influencers:
Xococoho: 662k Followers, Professional Surfer
Banesword: 66.9k Followers, Professional Musician
Khadijashari: 73.3k Followers, Professional Dancer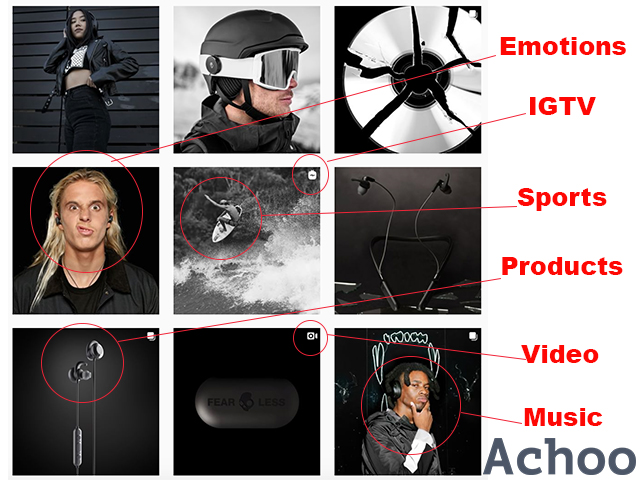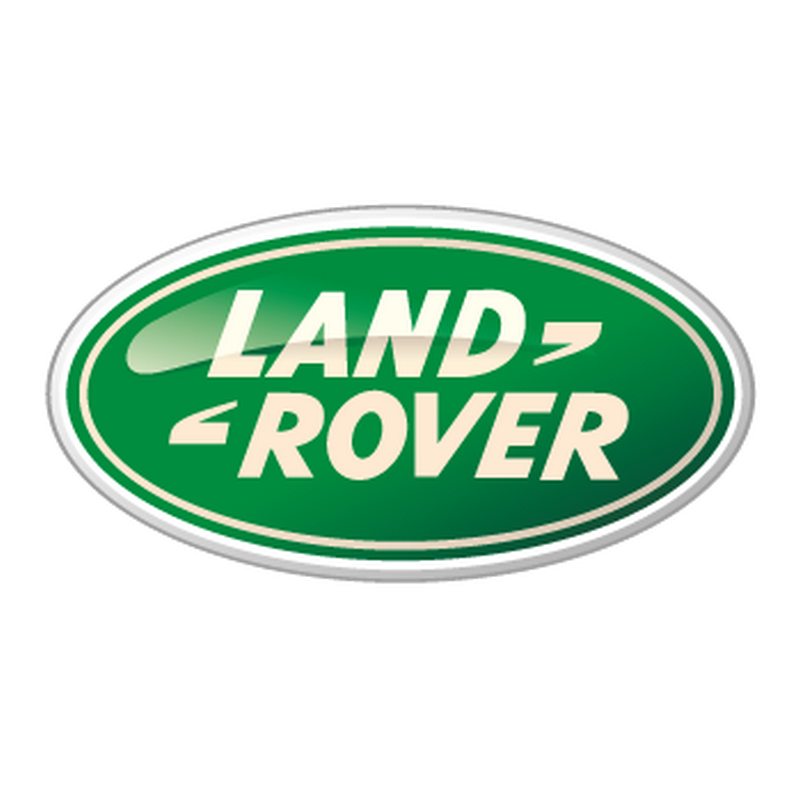 2. Land Rover's Influencer marketing campaign
Campaign: Discovery with Land Rover
Campaign objective: Increase brand exposure
Land Rover is a well-known British car brand that has been among few car makers using influencer marketing. Noticeably traditional means of advertisement are receiving lower attention spans among younger demographics.
In order to resonate with millennials and GenZ's Land Rover has engaged in influencer marketing activities.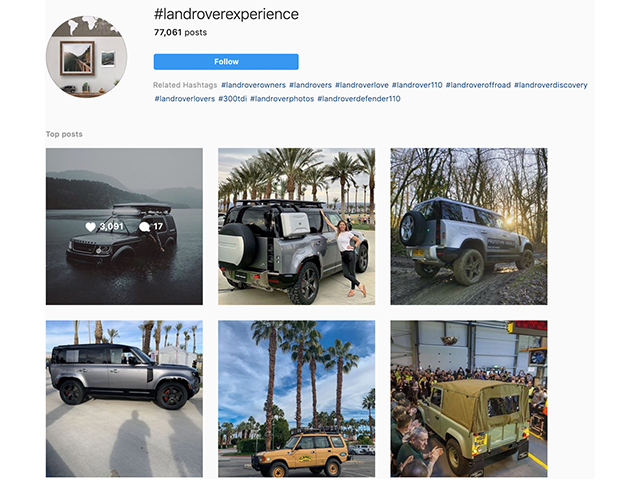 Activating Influencers
The carmaker has launched several influencer marketing campaigns, promoting older and newer car models across the globe. Land Rover is not known for running aggressive influencer marketing campaigns that would involve large amounts of influencers or working with celebrities.
The brand has been selective in choosing the right influencers. To match the best influencers for the campaign Land Rover follows a few criteria:
Influencers with high follower(500k+) base, reach and engagement
Land Rover prefers to work with mega or celebrity influencers.
Influencers that can produce visually appealing content
Influencer Campaigns
Influencer marketing campaigns aim to showcase cars functionality and durability. Land Rover engaged with travel niche influencers allowing them to both reach wide audiences and receive high-quality visuals simultaneously.
Land Rover used multiple influencers for a single campaign, allowing them to experience cars together. Companies have been selective when it comes to choosing influencers, by selecting influencers with large follower base and high engagement rates.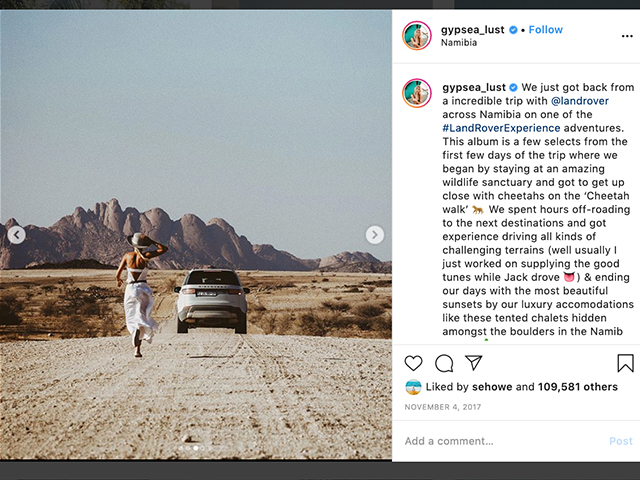 Highlights
Brand partnering up with selected influencers
Choosing influencers from travel niche
Use of brand-related hashtag: #discovery
Results
Land Rover gaining brand exposure among younger demographics
High-quality User-generated Content
Promoted cars functionality and durability in different environments.
Brands selling high value goods (as cars) can still benefit from influencer marketing. By engaging in partnerships with mega and celebrity influencers Land Rover has reached out to younger demographics. The carmaker has used similar tactics as other brands by using multiple influencers in the same campaign and giving them creative freedom.
Some of the activated influencers:
Lauren Bullen: 2.1 million followers, Travel and Lifestyle Influencer
Jack Morris: 2.7 million followers, Travel and Lifestyle Influencer
‍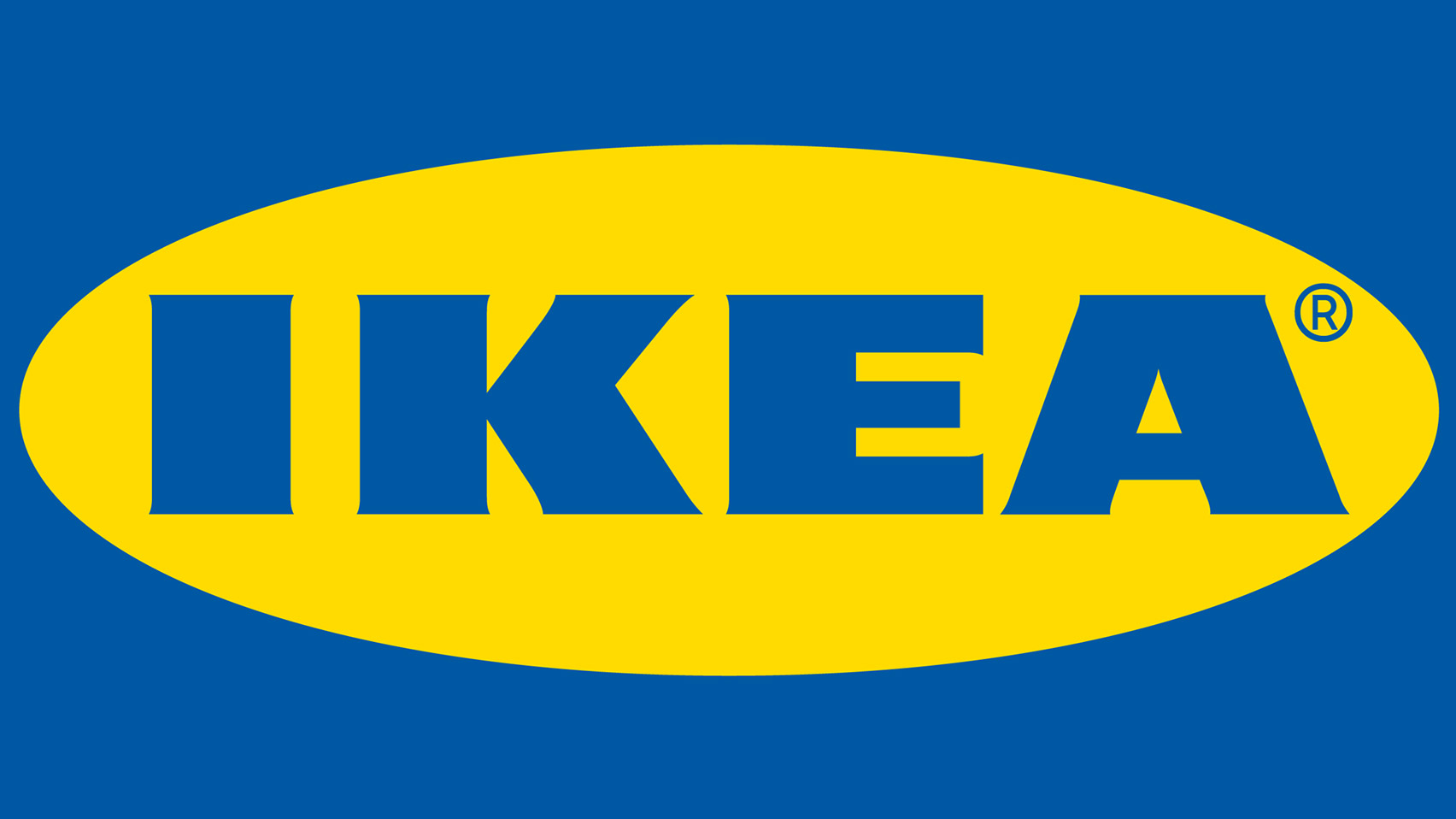 3.IKEA's Influencer marketing campaign
Campaign: IKEA's Influencer Challenge
Campaign objective: Connect with audiences by showcasing brand from ''behind the scenes'' perspective.
Description:
IKEA is a brand that regularly engages with influencers, and influencer marketing is part of companies overall digital marketing strategy. IKEA is known for its presence on social media.
For the German market campaign, IKEA invited 4 local YouTubers and split them up into teams of two. Influencers then were asked to do various challenges and document process in Instagram stories.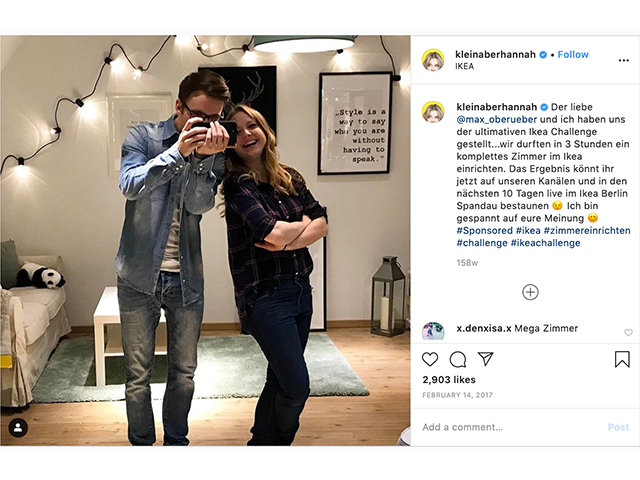 Instagram and YouTube
Once challenges in the IKEA store were over, YouTubers went home and produced videos for their own youtube channels! That later got released on their channels.
‍
‍
The campaign resulted in success. Followers engaged in comment sections both on Youtube and Instagram. IKEA established a closer relationship with german audiences, in a more casual setting.
Ikea's Influencer campaigns highlights:
Account takeover (Publishing Instagram stories)
Provided authentic and relatable content.
Engaged influencer audiences from Youtube.
IKEA used 4 local, lifestyle influencers with a presence on multiple platforms( Instagram and Youtube)
IKEA chose to have influencers based on their engagement not on their follower count.
The company used special tactics to narrow down influencer choice in order to maximize results and influencers engagement in the product.
Why it worked?
In order to achieve highest results IKEA narrowed down their influencer choice by few criteria
Local influencers( German )
YouTube following with over 100k
Instagram following over 30k
Creators in their 20's ( millennials)
Authentic and engaging with close relationship to their followers
‍
Results:
The improved brand perception among Millennials in Germany
Influencers total reach of 2,5 million followers
The 4 videos associated with campaign gained over 430.000views
Effectively reached younger and more digitised audiences
Partnering up with local influencers is not always an obvious choice. Local influencers can be valuable for brands that are operating from brick and mortar stores.
Using multiple cross platform influencers at the same time, can increase overall campaign reach and engagement. By allowing creative freedom for influencers, brands can expect authentic content and increased trust among target audiences.
IKEA's choice of Influencers for the campaign:
Max Oberüber: 289K Followers. German Entertainment, Lifestyle YouTuber/Influencer
Klein aber Hannah: 320K Followers. German Entertainment, Lifestyle YouTuber/Influencer
Sara Desideria: 320K Followers. German Lifestyle, Fashion and Beauty YouTuber/Influencer
AlexiBexi: 1,39 Million Followers. German Lifestyle YouTuber/Influencer‍
‍
‍
4. Canon
Campaign: Working with Professional creators
Campaign objective: Shift from product-centric towards customer-centric
Description:
Canon is a world-known camera manufacturer, providing creators with photo and video tools they love. Their cameras have been used by multiple influencers daily, creating Instagram posts or shooting youtube videos.
But the brand has not engaged in huge influencer marketing campaigns, rather choosing a different approach.
When there are a bunch of influencers already using your product, what should you do? It seems like an easy task, Canon would just have to activate influencers already using their brand?
This is exactly what Canon is doing.
#TagYoureIt influencer campaign
One of early influencer activities, Canon launched #TagYoureIt influencer campaign. Where company challenged Influencers to create images of ordinary things to look epic. ‍
For example: Kale to look mouth-watering as junk food does. ‍
Once the challenges by influencers were completed, they were invited to propose the same challenge to their audiences to see what they can create.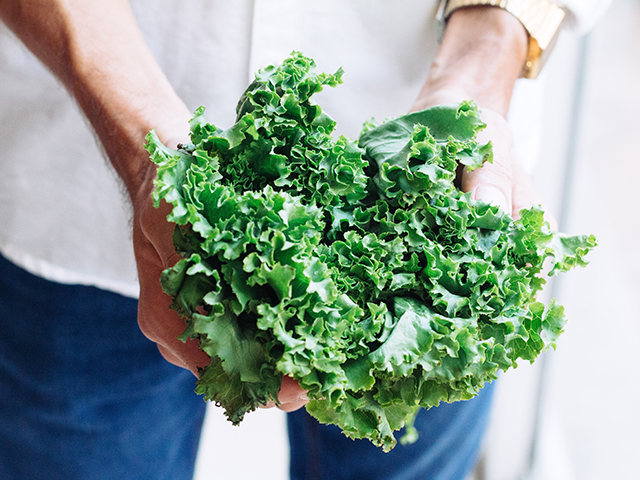 Engage with Professional creators
Another edge on influencer marketing strategy executed by Canon is engaging in long partnerships.
Canon has teamed up with Photographer/ YouTuber Jessica Kobeissi. Influencer uses gear from canon and does regular product reviews as well as showcases functionality of a camera or different lenses.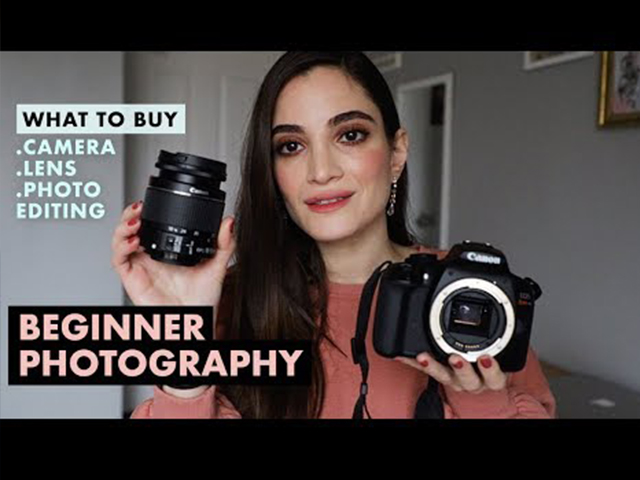 ‍

5. Brand: MVMT watches influencer marketing strategy
Campaign: Join the MVMT
Campaign objective: Gain social proof among the target group.
MVMT is the world's fastest-growing watch brand. Company is an excellent example of what can well planned and executed the influencer marketing strategy result.
Once starting the company faced a challenge of social proof. MVMT is an e-commerce watch company that sells products for ½ price as the competitors. This raised doubt in target groups' eyes as being a low-quality brand or even a scam!
MVMT started up their influencer marketing strategy with 62 influencers, creating a total of 73 sponsored posts and reaching exposure of 3 million users. Since then, the firm is continuously working with influencers.
They worked with micro and macro-influencers and leveraged user-generated content under the branded hashtag: #jointhemvmt. Use of discount codes enabled MVMT to precise track which influencers that brought paying customers.
Currently, hashtag #jointhemvmt has over 150k unique fan created posts, most of them featuring MVMT watches. Brand created hype around their watches by using branded hashtags and trending influencers.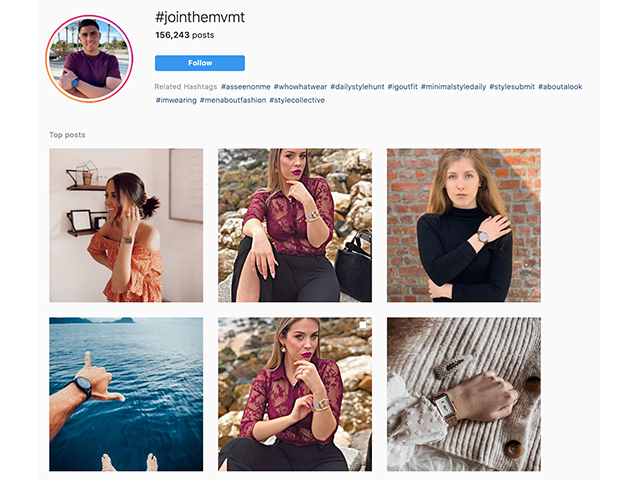 All the influencer activities have allowed the watch companies to grow their Instagram follower base to 1,1 million and post over 3800 pieces of content in the past 7 years of existence.
MVMT approach has resulted in large influencer marketing success and brand are continuing to actively engage in influencer partnerships. This is allowing companies to tap into new influencer audiences and strengthen their brand recognition.
For MVMT influencer marketing is not just a short term campaign but part of overall digital marketing strategy. Watchmaker is maintaining a close community around their brand where user generated content is not only increasing social proof but also driving sales of their products.


Highlights
Use of branded hashtag: #jointhemvmt
Focusing on micro-influencers within lifestyle niche and high engagement.
User-generated content fuelling companies growth and social proof
Referral program allowing everyone to promote the brand and become a brand ambassador
Results
Influencer marketing activities resulted in lifestyle movement powered by hashtag: #jointhemvmt. Capturing over 150k posts
The brand is perceived as a high quality, affordable luxury watch company that people can trust
MVMT follower base is continuously growing, currently connecting over 1,1 million followers
With influencer marketing being as a cornerstone activity , MVMT grow in to $90 million worth of a business in under 5 years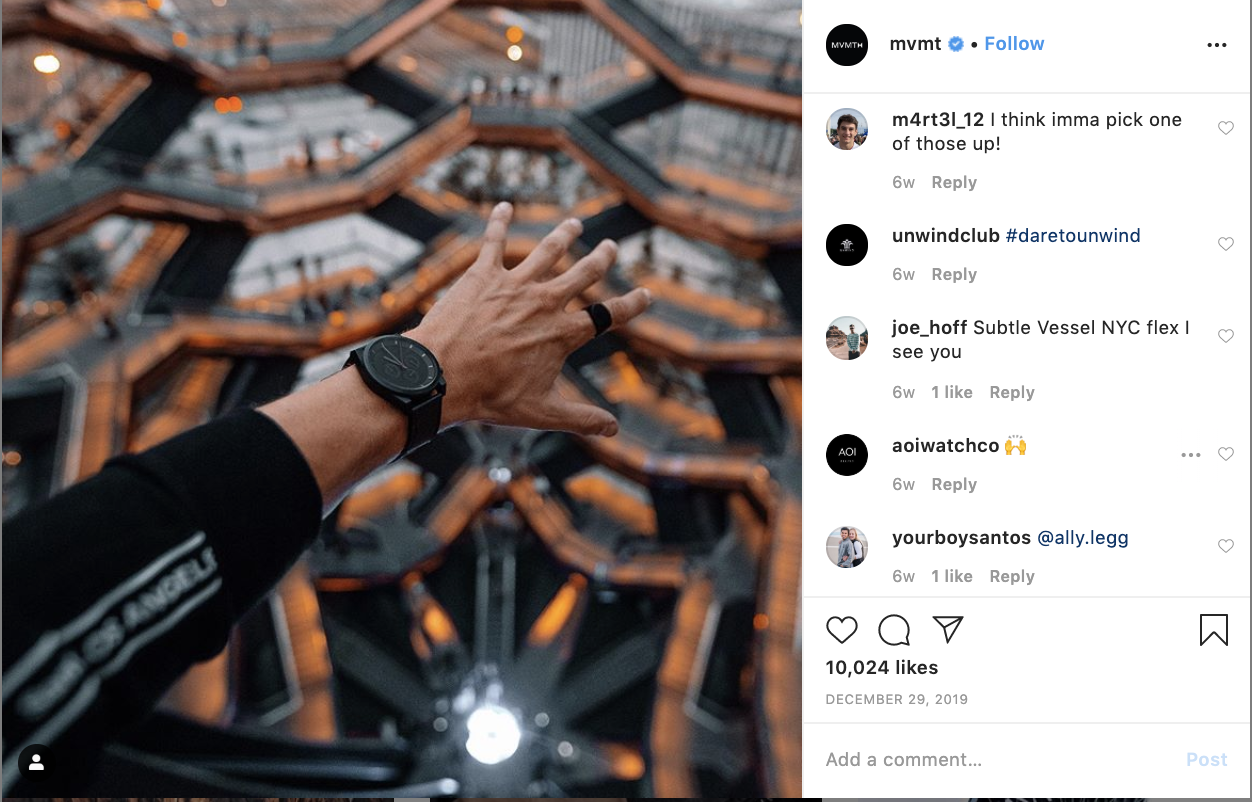 MVMT is a great example of how a small brand with a limited budget can achieve great results with influencers. Establishing long term influencer marketing goals, working closely with influencers and using branded hashtags are the key reasons behind their success.
Some of the Influencers MVMT has worked with:
Morgan Oliver-Allen: 155k Followers. Photographer, Lifestyle and travel influencer
JACOB RIGLIN: 970k Followers. Photographer, Creative
R O C K Y B A R N E S: 1,9 Million followers. Lifestyle influencer
Chelsea Y: 891k Followers. Travel influencer
Now it is your turn!
Without question, Influencer marketing has become one of the most rewarding marketing activities for brands to invest in.
Influencers are great for improving brand social proof raising awareness, and even driving sales.
Choosing the right influencers for your brand, outlining campaigns and focusing on long-term partnerships are the key success factors for influencer marketing in 2020.